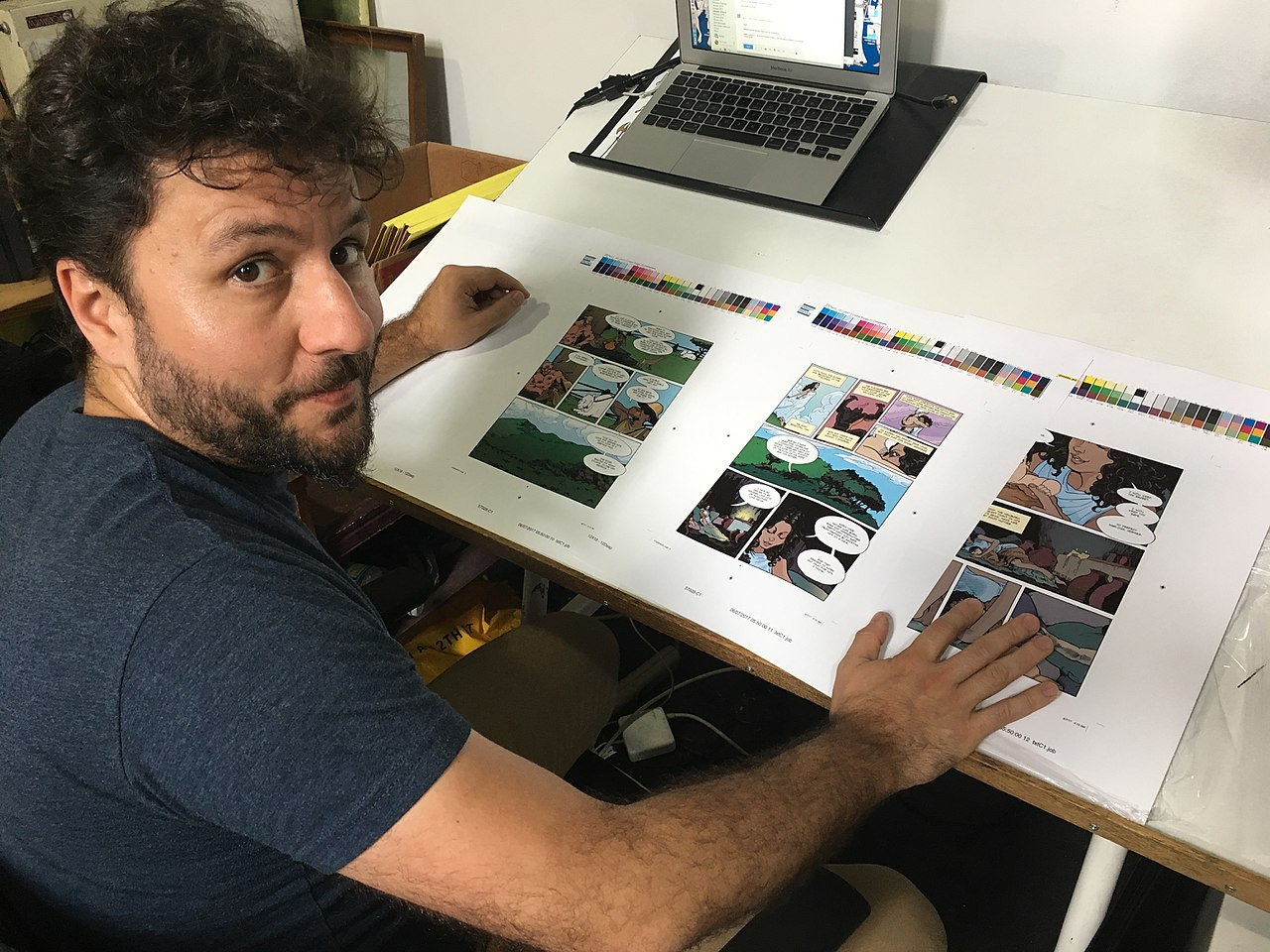 George O'Connor, photo uploaded by Nxswift. Retrieved from Wikipedia, licensed under CC BY-SA 4.0 (accessed: January 5, 2022).
George O'Connor , b. 1973

George O'Connor (1973) is an author, illustrator, cartoonist, and graphic novelist from the USA, based in Brooklyn, New York. His work is predominantly aimed at young people and frequently contains historical subjects and themes. O'Connor has cited Walt Simonson's mythology-rich editions of Marvel's Mighty Thor as a significant early influence on his own work. His first graphic novel, Journey into Mohawk Country, was based on the journal of a 17th century trader. He illustrated Adam Rapp's adult graphic novel Ball Peen Hammer (2009). He contributed to First Series' Fable Comics (2015, ed. Chris Duffy), a collection of myths retold by cartoonists. Between 2010–2022 O'Connor published the Olympians graphic novel series.
In an interview (see here, accessed: April 17, 2015), George O'Connor has said that he wanted the series to be educational. He also said that he spent a long time researching for each title by reading ancient literature to access different versions of myths, and that he consciously tried to avoid reading modern "people's retellings because everybody puts a spin on it. I purposely put spins on the stories too, but I don't want to accidentally steal somebody else's spin".
Sources:
Official website (accessed: October 24, 2018).
Former Author blog (blog no longer updated; accessed: October 24, 20018).
Twitter (accessed: October 24, 2018).
Bio prepared by Sonya Nevin, University of Roehampton, sonya.nevin@roehampton.ac.uk
---
Records in database: