Title of the work
Star Wars Rebels (Series)
Studio / Production Company
Disney-Lucasfilm
Country of the First Edition
Country/countries of popularity
Worldwide
Original Language
English
First Edition Date
2014
First Edition Details
Star Wars Rebels. Executive producer Dave Filoni, Lucasfilm and Disney XD, 2014, aired: 2014–2018, 22 min episodes.
Running time
22 minute episodes. 74 episodes
Format
Online and DVD
Official Website
Awards
Academy of Science Fiction, Fantasy & Horror Films, USA (2017 and 2018), winner of Best Animated Series or Film on Television;
Critics Choice Television Awards: 2015 and 2016, nominee for Best Animated Series;
Primetime Emmy Awards: 2017, nominee for Outstanding Children's Program.
Genre
Animated films
Computer animation films
Fantasy fiction
Science fiction

Target Audience
Crossover (6+)
Cover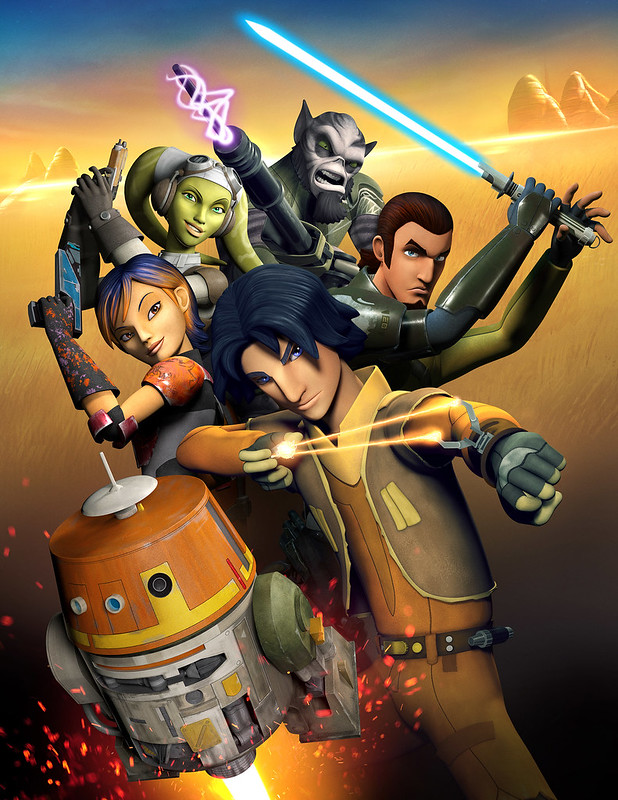 Graphics by Disney XD. Retrieved from flickr.com, licensed under Creative Commons Attribution-NoDerivs 2.0 Generic (accessed: December 14, 2021). Copyright: © 2014 Lucasfilm.
---
Author of the Entry:
Sonya Nevin, University of Roehampton, sonya.nevin@roehampton.ac.uk
Peer-reviewer of the Entry:
Susan Deacy, University of Roehampton, s.deacy@roehampton.ac.uk
Elizabeth Hale, University of New England, ehale@une.edu.au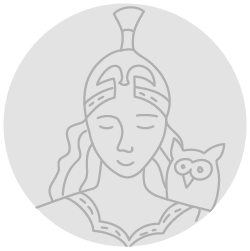 Carrie Beck (Screenwriter)
---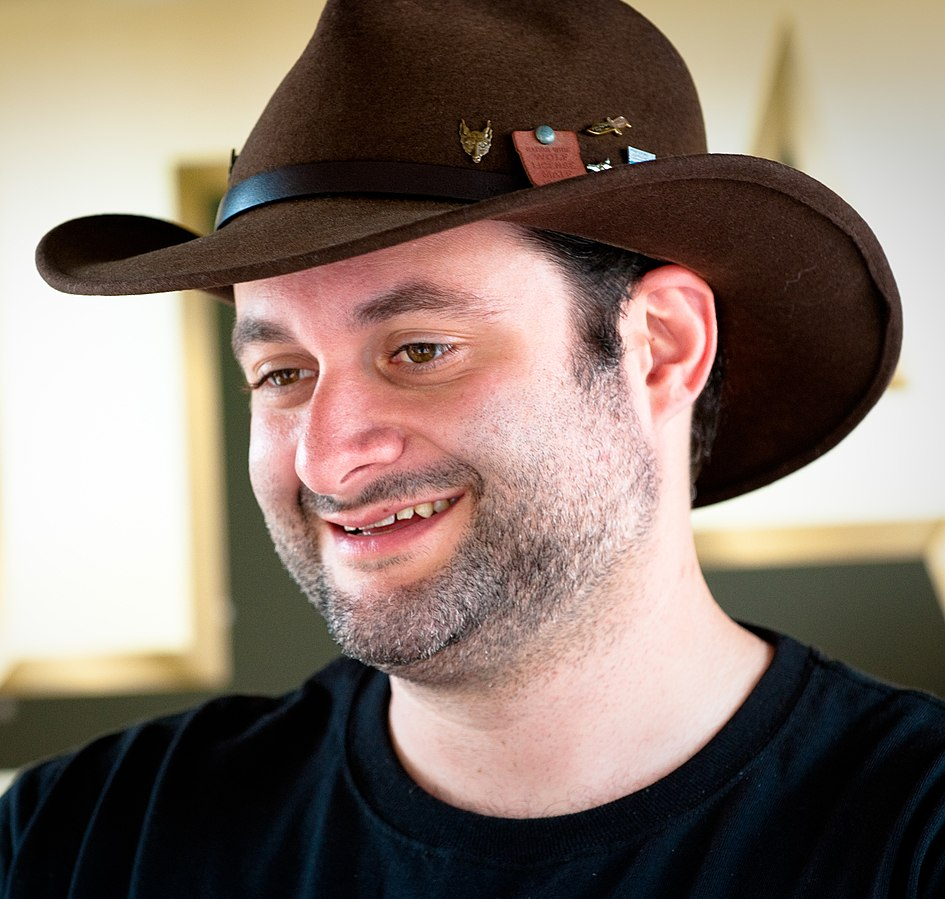 Dave Filoni in 2010 by Josh Hallett. Retrieved from flickr.com, licensed under Creative Commons Attribution-Share Alike 2.0 Generic (accessed: December 14, 2021).
Dave Filoni , b. 1974
(Director, Screenwriter)
Dave Filoni (1974) studied applied media at Edinboro University in Pennsylvania, USA. After graduating in 1996 he worked on the animation staff for King of the Hill (1997-2004), The Oblongs (2001) and as director for the animation, Avatar: The Last Airbender (2005). He worked with George Lucas on the creation of Star Wars: The Clone Wars (2008, see entry in this database), before serving as a writer, director, and supervising director on the series. Filoni was kept on when the Star Wars franchise was purchased by The Walt Disney Company. In 2017, Filoni became executive producer of all the animated Star Wars series, including Star Wars Forces of Destiny (2017, see elsewhere in the database) and Star Wars Resistance (2018).
Bio prepared by Sonya Nevin, University of Roehampton, sonya.nevin@roehampton.ac.uk
---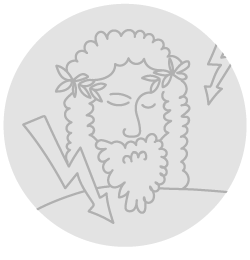 Simon Kinberg (Screenwriter)
---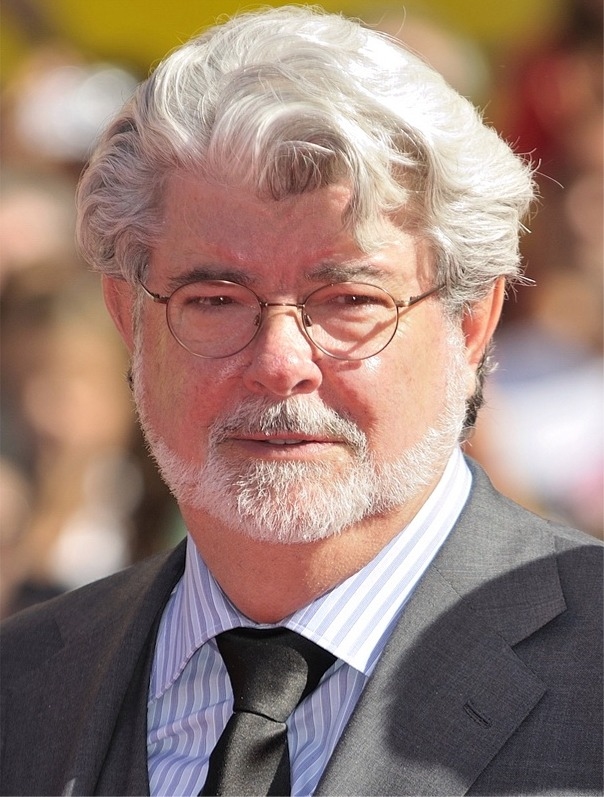 George Lucas by Nicolas Genin. Retrieved from Wikipedia, licensed under Creative Commons Attribution-ShareAlike 2.0 Generic (accessed: December 14, 2021).
George Lucas , b. 1944
(Author, Producer)
George Lucas is a four-time Academy Award nominated film-maker from the USA. He was born in California and attended the University of Southern California School of Cinematic Arts. His first feature-length film was THX 1138 (1971); his second was American Graffiti (1973). His third feature film, Star Wars. A New Hope (1977) sparked the beginning of one of the world's most successful film franchises. Between 1977 and 2005, George Lucas was the co-writer and executive producer of all six Star Wars films; he also directed four of the six films. Lucas was heavily involved in the development of a number of further Star Wars projects, including animations, videogames, and novels.
In 1971, George Lucas founded the production company Lucasfilm Ltd (accessed: June 28, 2018). In 1975 he founded Industrial Light & Magic (ILM). Through the various research and development projects which Lucas' companies engage in, Lucas has been a pioneer of many production techniques, such as the computer-assisted camera crane, use of computer graphics – including the earliest use of 3D computer character animation, use of digital photography in film production, use of film laser scanners, and the development of industry-standard post-production tools, including sound editing and mixing software. Graphics Group, part of Lucasfilm's computer division, was sold to Steve Jobs and re-named Pixar (now owned by The Walt Disney Company). Pixar remains one of the most influential and successful animation studios. Disney acquired Lucasfilm in 2012. George Lucas remains active within film-making and research.
Bio prepared by Sonya Nevin, University of Roehampton, sonya.nevin@roehampton.ac.uk


---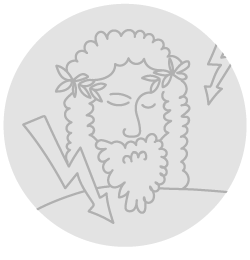 Casting
Taylor Gray – Ezra Bridger,
Freddie Prinze Jr. – Kanan Jarrus,
Vanessa Marshall – Hera Syndulla,
Steve Blum – Zeb Orrelios,
Tiya Sircar – Sabine Wren,
Dave Filoni – C1-10P a.k.a. 'Chopper'.
Sequels, Prequels and Spin-offs
Learn-to-Read Books:
Rusu, Meredith, Star Wars Rebels: Always Bet on Chopper (World of Reading: Level 1) Disney Book Group and Lucasfilm Press, 2015.
Schaefer, Elizabeth A., and Hopps, Kevin, Star Wars Rebels. Hera's Phantom Flight (World of Reading: Level 2) Disney Book Group and Lucasfilm Press, 2015.
Schaefer, Elizabeth A., Star Wars Rebels: Kanan's Jedi Training (World of Reading: Level 2), Disney Book Group and Lucasfilm Press, 2015.
Star Wars Rebels Ultimate Sticker Collection (Ultimate Sticker Collections), DK Publishing, 2014.
Star Wars Rebels: Ezra and the Pilot. (Young Readers: Level 1), Disney Book Group and Lucasfilm Press, 2015.
"Chapter books" for young readers:
Kogge, Michael, Rise of the Rebels, Disney-Lucasfilm, 2014.
Kogge, Michael, Droids in Distress, Disney-Lucasfilm, 2014.
Kogge, Michael, Ezra's Duel with Danger, Disney-Lucasfilm, 2015.
Kogge, Michael, Battle to the End, Disney-Lucasfilm, 2015.
Activity Books:
Star Wars Rebels: Story and Activity Book, Egmont- Lucasfilm, 2014.
Star Wars Rebels: 3D Activity Book, Egmont-Lucasfilm, 2014.
Star Wars Rebels: How to Draw Activity Book, Egmont-Lucasfilm, 2015.
Star Wars Rebels: Transfer Book, Egmont-Lucasfilm, 2015.
Star Wars Rebels: Colouring Book, Egmont-Lucasfilm, 2015.
Rebels Rule Activity Book, Egmont-Lucasfilm, 2015.
Novels:
Miller, John Jackson, Star Wars: A New Dawn, Del Rey 2014.
Zahn, Timothy, Thrawn (Star Wars). Del Rey, 2017.
Zahn, Timothy, Thrawn: Alliances (Star Wars). Del Rey, 2018.
12-issue comic series:
Weisman, Greg (au.), Larraz Pepe, Camagni, Jacopo, Broccardo, Andrea (ils.), Kanan, Marvel Comics 2015-2016.
Videogames:
Star Wars Rebels: Recon Missions was released by Disney Mobile on iOS, Android, and Windows Store in early 2015, before being discontinued in 2016.
Star Wars Rebels themed LEXIBOOK JL2365SW Compact Cyber Arcade Star Wars Game Console with 150 Games.
Toys etc.:
Star Wars Rebels Action-figures (various).
Star Wars Rebels Bobble-head figures / soft toys.
Star Wars Rebels Lego sets.
Star Wars Rebels Top-Trumps / trading cards / sticker sets.
Star Wars Rebels Toy lightsabres, blaster guns, dart blasters.
Star Wars Rebels lunch boxes / lunch bags / cups, glasses, mugs / plates and bowls.
Star Wars Rebels school bags / ruc-sacks / bean-bags / pencil cases / clocks.
Star Wars Rebels stationery and/or paint sets / art sets / notebooks.
Star Wars Rebels Giant magnetic scribbler screen.
Star Wars Rebels Hot Wheels series (cars based on series spaceships).
Star Wars Rebels Micro Machines.
Star Wars Rebels dressing-up costumes (Ezra; Sabine; Kanan; Chopper; Leia; Inquisitor; Stormtroopers; Agent Kallus).
Star Wars Rebels T-shirts; pajamas; swimwear; dog-tag/jewellery; towels.
Star Wars Rebels puzzles (various).
Star Wars Rebels Ligretto Card Game (made by Schmidt) / card memory games.
Star Wars Rebels party materials (paper plates, small toys, balloons, napkins, banners etc.).
Star Wars Rebels bed-spreads; curtains; rugs; wall-paper; play tents; inflatable boat.
Summary
Star Wars Rebels is a 2D animated series that adds to the main Star Wars saga storyline while introducing new characters and plots. The series is set in between Star Wars: Revenge of the Sith (2005) and Star Wars: Rogue One (2016), approximately fifteen years after the foundation of the Galactic Empire (for more background on the Star Wars universe, please see the entry for Star Wars. The Clone Wars). The story follows Ezra Bridger, a "Force sensitive" (i.e. supernaturally talented) teenager as he joins a group of rebels aboard the Ghost spaceship (Hera Syndulla, Kanan Jaris, Sabine Wren, Zeb Orrelios, and Ezra Bridger). The rebels are at the early stages of what will become a more organised "Rebel Alliance" fighting an authoritarian empire. Important plot strands include Ezra training in the ways of the Jedi and stories revealing the malign influence that the empire has had upon the home planets of each of the Ghost crew. As the Galactic Republic of the Star Wars saga has given way at this stage to the fascistic Galactic Empire, the series is suffused with a nostalgia for the more civilised age of the republic. Visually, this sense of loss is in part expressed through a significant decline in the incidence of the Greco-Roman design features which were common to the Republic's style (for which, see the Star Wars. The Clone Wars entry). As there was a significant overlap between creators and designers working on Clone Wars and Rebels, it is apparent that this reduction in classical stylings is a deliberate way of expressing the arrival of a new, more brutal era. Nonetheless, there are still numerous Greco-Roman features, which express numerous interesting concepts and associations.
Analysis
"It reminds me of a time there was something you could believe in."
"The Jedi".
This exchange, in the penultimate episode of the series (S04E14), between a pirate and a reformed bounty-hunter preparing to help the rebels altruistically against the Empire, summarises much of the zeitgeist of Rebels. It captures the pervading sense of loss of the structure and achievements of a destroyed culture and the search for reconnection with a more meaningful past in order to shape a better future. This position reflects many societies' difficulties adjusting after seismic cultural shifts. It also expresses anxieties felt by many cultures in the post-classical era, which have looked back to the classical past, this not least in the now post-modern age.
Antiquity and Star Wars Design
One of the central modes of expressing cultural change is the difference in architecture. Where Republican architecture was heavily influenced by classical design (see the entry on Star Wars. The Clone Wars), imperial design is far more brutalist; gone are the colonnaded walkways and domed porticos, in are grey unornamented structures built on a massive scale. This change also reflects a change in the use of space; where once the protagonists of the Star Wars universe roamed the halls of power and openly visited the cities of many worlds, now they are confined to marginal spaces as they struggle to avoid notice. Occasionally classical features are seen: an unusual sighting of a semi-classical space-port, complete with columns and decoration, acts as an indicator that the rebels are closer to a major settlement than they usually go (S02E09). Yet even in spaces such as these, on planets including Lothal Teralov, and Ryloth, we do not see the wealth of classical architecture and statuary that was a familiar part of the landscape of the Republican era. Classical-style architecture is most frequently seen on visits to ancient temples, such as the Jedi temple on Lothal (e.g. S01E09; S02E17; S02E20; S03E02; S04E11–12), the ruined temple site on Yavin (S04E05) or the Sith temple on Malacore (S02E20). The abandoned, often ruined, nature of these once-flourishing sites underlines the change that has occurred in the culture, even as their ongoing significance demonstrates the enduring power of the cultural knowledge they contain.
Further elements of classically-influenced design suggest the rebels' desire to keep aspects of the old ways alive. When the Ghost becomes the lead ship of the Rebel Phoenix Squadron, Sabine decorates the ship's interior with a large phoenix painting (S03E02 and onwards). In case young viewers do not understand the imagery, there is an exchange led by their major antagonist, Admiral Thrawn, which helps to explain. Thrawn asks another officer to describe the image and receives the answer: "It's the mark of the Phoenix Squadron: a creature of flight, rising in the flames. A symbol of their commitment to victory." Thrawn agrees that it is that, "and more".
Classical-style elements can be seen in a number of military designs, such as the Roman-style helmet of Agent Kallus (S01E01 and throughout) and the enduring hoplite-style of the essentially anti-imperial, independent Mandalorian warriors. The most prominent example of this is seen in rebel Sabine Wren (S01E01 and throughout), a Mandalorian who sports a hoplite-style helmet and armour, including a classical owl decorating her shoulder piece (S03E01 onwards). Later, Sabine will add an Eros-like wing design to her jet-pack (S03E16). Other Mandalorians also continue to wear their traditional armour (e.g. S02E12; S03E06; S03E12; S03E16; S04E01–02), and Sabine's own mother is revealed to have a black and gold suit of armour (S03E16).
Classical culture (like many other cultures) placed value on the age, lineage, and prestige of weapons and armour (see esp. The Iliad). This concept is reflected in the values of the militaristic Mandalorians. The history of a particular weapon – the Dark Blade – is told in a Homeric fashion: it is 1000 years old and was made when the first Mandalorian was inducted into the Jedi. When Sabine accepts true ownership of the blade, she accepts leadership of her clan (S03E15). Similarly, we learn in the course of the series that Sabine's armour is 500 years old; each generation has adapted it slightly to suit the wearer, but it is a valued clan heirloom (S04E02). The revelation that Sabine once helped to create a weapon for the Empire that turns the Mandalorians' armour against them (by superheating them) is therefore revealed to be an attack on Mandalorian identity and heritage. This action had caused Sabine to be exiled from her people, and her reunion with them is only really accomplished when she is able to subvert the weapon and use it to destroy imperial troops. Although this dynamic reflects the events of many eras and cultures there is nonetheless a strongly classical flavour to this use of weaponry and armour as a symbolic means of asserting or supressing identity. Sabine uses paint to customise the stolen imperial helmets that her crew-mates wear (e.g. S02E14). Many of the rebel pilots sport classical-style wreaths and wings on their helmets (S04E09). This colourful customisation is a strike back at the uniformity of Empire.
Antiquity and Star Wars Names
As is already apparent, classical or classical-style names are prevalent throughout Star Wars Rebels. Some of these names are carried over from previous Star Wars stories, others are new to Rebels.
One of the central characters is Hera Syndulla (S01E01 and throughout), whose forename is that of a Greek goddess, while her surname is a compound formed with the Greek "syn" meaning "together". Hera's father, Cham Syndulla, known from Clone Wars, reappears (S03E04). Another prominent character, Sabine Wren, has a forename taken from an ancient people of Italy, the Sabines, who formed a key component of Roman origin myth (the Rape of the Sabine Women, see Livy, 1.9-13). Although Sabine's name is pronounced "Sabeen", as this name generally is in the modern world, its origins remain distinctly classical. The rebel, Zeb, is characterised as a comedic figure of more brute strength than skill. When his backstory is uncovered, he is found to have a more distinguished history than his crew-mates (and viewers) expect. This altered perception is accompanied by the revelation that his full name is Captain Garazeb Orrelios, with the surname pronounced much like that of the Roman emperor, Marcus Aurelius (S02E13). The classicising of his name is an aspect of establishing his more distinguished character.
Names persisting from previous Star Wars iterations include Jedi Master Luminara (S01E04); Ahsoka (S01E06 and throughout); Captain Rex (S02E02, then throughout); and General Dodonna (S03E20–21; S04E03; S04E08), a Rebel Alliance leader who bears the name of an ancient Greek oracle (a name carried over from the original trilogy). The rebels include the pilot Numa (S02E15; S03E04), named after a Roman king. While the Ghost crew become the leaders of Phoenix Squadron (with the call-sign "Phoenix One"), other rebel ships include Orion and Phoenix Nest, a ship whose destruction allows others to live (S03E21). When Ghost becomes Phoenix One (S02E01) the name is apt as the crew are getting a new lease of life after some difficult times with the Empire. As this is the name of the main protagonists, it is subsequently heard extensively throughout, giving it a dominant presence in the programme. The Empire also has its share of classical names, including a flag-ship bearing the name of a Greek monster, the Chimaera (S03E21), and admirals Kassius Konstantine (S02E16; S03E01; S03E03; S03E07; S03E21) and Titus (S02E09; S03E01; S03E17; S04E03). One of the main enigmas of the series revolves around the figure of Agent Kallus (S01E01; S01E07; S01E12; S02E01, then throughout). His name could reflect the Greek kallos ("good", "handsome") or the English "callous" ("unsympathetic", "emotionally cold"). The series plays on the tension between these two ideas; while he is initially the rebels' main antagonist, ambiguity creeps in and he is eventually revealed to be helping them, at first secretly, later openly – he is kallos after all.
The series' finale features loss and uncertainty, but finishes with a look into the future. Captain Hera of Phoenix Squadron has had a son, Jacen (pron. Jason); a new classically-named hero for a new era. Jacen's name was adopted, as a tribute, from the character Jacen Solo, who featured in Star Wars Legends (see here, accessed: October 24, 2018). Nonetheless, this is an indication of the wealth of classical names in the Star Wars universe and the adopted name is effective as used.
Another intriguing use of classical features occurs when the rebels encounter a group of droids who are still programmed to fight the Clone Wars long after the wars are over (S03E05). The droids employ "Battle-plan Zeta", the final battle-plan. "Omega" is the final letter of the Greek alphabet, not "zeta";"'zed", is the last of the English alphabet, and "zeta" is its Greek equivalent, so here we see a convoluted mix to achieve an appropriate-sounding "final" letter. It seems likely that the creators wished to reflect the practice of naming plans according to the Greek alphabet, but had concerns about whether their young audience would recognise "omega" as a letter, while "zeta" sounds close-enough to "zed" to be understood in context.
An alternate trend runs through the naming of characters in Star Wars Rebels. Much as the architectural landscape reflects a post-classical era, new names are included which contain decidedly post-classical associations. Gar Saxon (S03E06 onwards), for example, bears the name of a population who rose to prominence in the post-classical era. Appropriately he is a fierce proponent of feudal clan loyalties, not planetary or interplanetary democracy. His brother, Tiber Saxon, succeeds him (S04E01-02), with a name that reflects both the Germanic people and the river that runs through Rome. Tiber Saxon is less extreme than Gar Saxon, but still makes much of attacking "Saxon clan traitors". We also meet "Tristan Wren", Sabine's brother (S03E16; S04E02), whose name evokes the medieval romance based on Celtic myth, Tristan and Isolde (or Iseult).
Antiquity and Star Wars Slavery
Slavery is a persistent theme throughout Star Wars Rebels. This is explored in part through an ongoing examination of the rights of machines (droids) and questions about the limits of individuals' value, freedom, and uniqueness, and the responsible way to source labour. This examination of the philosophy of slavery reflects questions explored in antiquity by writers such as Thucydides, Herodotus, and Aristotle and which have persisted ever since then. The presence of these questions in Star Wars Rebels encourages young people to consider philosophical issues raised in antiquity and still pertinent in the modern world.
In one storyline examining slavery, a smuggler, Lando Calrisian, wins the Ghost crew's droid, Chopper, when Zeb stakes him in a card game. Hera, the droid's legal owner, who treats him as a friend, complains, "He wasn't yours to bet... [he is] a member of this crew." This conversation explores some of the tensions around freedom and ownership, particularly around the ownership of semi-sentient artificial life. Ezra half-jokes that it was a good thing that he was not there in case Zeb had bet him too. The episode stresses the crew's commitment to valuing diversity and respecting autonomy and freedom, but it acknowledges that not everyone holds those views and that even members of the crew can slip morally (S01E10). This exploration is continued in the following episode, in which Hera is briefly enslaved. The grotesque character, Asmorigan, refers to her as "my property" and stares at her lasciviously. Hera is able to escape and the droid, Chopper, goes on to demonstrate his contribution to the crew by stealing valuable fuel without being ordered to by his organic companions (S01E11). Asmorigan is encountered once more and he argues that "technically" he still owns Hera (S03E08). The Empire's moral corruption is demonstrated by its widespread use of slave labour, particularly in mines, staffed by whip-wielding foremen (S04E08). The Empire is also responsible for the enslavement of the Lasat people, and the moral ambiguity of the space-pirates is explored through their involvement in the transaction (S02E13). Similarly, the Black Sun crime syndicate's moral failings are proved by their involvement in enslaving and slave-trading (S02E06). When the syndicate attempts to take Chopper, Sabine defends him, calling him "not just a droid but a Rebel and a friend" (S02E06). Droids from opposing sides can be seen helping each other despite their different allegiances (owners), when they bond over participation in a bygone military campaign. Once their restraining bolts are removed, the droids are free to go where they please, a development treated as positively as freeing humanoid slaves from mines.
Antiquity and Star Wars Philosophy and Values
Much of Rebels explores the contrast between the Republic and the Empire. Over the course of the series, we learn more about how the Republic was transformed into the Empire. The most explicit exploration of this issue occurs in the context of Empire Day, a celebration of the Empire's foundation (S01E07). There are parades and public broadcasts, with ministers and senators in attendance. A lone senator attempts to speak out against the autocracy of the Empire with predictable consequences. Discussion of the contrast between the Republic and the Empire becomes more explicit as the series develops (e.g.S02E02). It is regretted that while the Senate still operates, it does so as a shell of its former self (S02E11). Senator Mon Mothma is trying to keep the political order going. She berates Saw Gurera for breaking the rules of war; while it is clear that the idea of such "rules" is now unstable, it is characteristic of the rebels that they wish to preserve the moral norms of a now bygone era (S04E03). Much of the series follows the planet Mandalore's struggle to remain independent in an imperial age (esp. S03E15). This reflects their earlier anxieties about the Republic, but the consequences of their uncertainty are now far worse and the debate no longer occurs in the elegant halls of power but amid the ruins of empire and shattered landscapes. All of this material draws heavily on the major crisis of Roman culture, the transition from republic to empire; it is also part of the general ambience mentioned above, of nostalgia for a more civilised time. This use of the ancient past to explore these ideas enables an expression of nostalgia both for the ancient past and, arguably, for a more democratic recent past.
Ezra goes undercover in the Empire's military training centre (S01E05). The rigid training of youth troops recalls the Spartan agoge (as did the training of clone troops in Star Wars: Clone Wars). But the viewer learns that these children will not be valued as equals (as the Spartan homoioi, "graduates" of the agoge would be); the most gifted of them will be culled to keep the group compliant and mediocre. This is a practice more akin to the Spartan treatment of their slave community (or helots) (for which see e.g. Thucydides 4.80; Xenophon, Hellenica 3.3.4–11; Pollux 3.83). Ezra accomplishes his mission and escapes, demonstrating the rebels' rejection of the imperial regime. This is reinforced in the following episode, when a second member of the crew, Sabine Wren, asserts that the blind obedience required of her when she was a recruit at the Imperial Academy "did not work for her" (S01E06).
In myths (classical and otherwise) and in fairy tales, it is extremely common for protagonist children to be orphans or effective orphans. This is the case in Star Wars Rebels, in which Ezra is first encountered surviving alone on the streets (S01E01). It is later revealed that he has been alone since his parents were arrested by the Empire seven years earlier (S01E07); it is eventually confirmed that they have since been killed. Further disclosures reveal that Kanan too is an orphan; orphaned first of his parents and later of his Jedi Master, during the great purge (S02E01). Kanan becomes a master to Ezra, but the relationship between characters in Rebels differs from that in Clone Wars. In Clone Wars, the protagonists were supported by the well-established Jedi Order and the stable Master-Apprentice system. In Rebels, the Jedi Order has been destroyed and those few who knew it are adrift. The protagonists in Rebels find their support in belonging to the family-like structure of the Ghost crew and in the wider cause of the rebellion. Sabine and Ezra's missions take on an increasingly sibling-like quality reminiscent of the Orestes-Iphigenia pattern than was well-established in the original trilogy of films (1977–1983; see esp. S04E06).
There are many adventures and perils which reflect traditions laid down in myths such as Theseus and the Minotaur. This is particularly apparent in the many storylines set in frightening labyrinthine environments where it frequently becomes hard to distinguish who is the hunter and who the hunted (eg. S01E04; S01E06; S01E08; escape from a Labyrinth star destroyer, S01E13; labyrinthine tunnels underground, S02E16 and S03E11-12; S02E19; labyrinthine tunnels of scary Sith temple, S02E20; labyrinthine tunnels of giant spiders, S03E02; hunted by droids in a labyrinthine spaceship, S03E08; hunted through labyrinthine paths on Dathomir, chased by ghost Amazon witches, S03E10).
Ezra makes spiritual progress throughout the series as he learns the Jedi way. He learns to control his emotions and in doing so learns to control a variety of animals and monsters (which are to some extent visual metaphors for those emotions). Ezra's relationship with the wolves of the planet Lothal plays an important role in this respect (esp. S04E06), a storyline which owes much to Princess Mononoke (dir. Hayao Miyazaki, 1997) and, to a lesser extent Nausicaä of the Valley of the Wind (dir. Hayao Miyazaki, 1984; 2005), one of the most celebrated anime films ever made. As part of this story-arc, Ezra discovers ancient cave paintings which depict an ancient past in which humans and Loth-wolves cooperated (S04E07). The Star Wars universe's themes regarding the Jedi way reflect the influence of ancient Stoic philosophy and aspects of several forms of Eastern philosophy. The storylines, which mix archeology and interdimensional sci-fi, reflect a wide variety of sci-fi and other traditions, including those laid down in 1940s comics in which aliens found civilisation on Earth. Such comic-book stories also influenced the more problematic work of pseudo-archaeologist Erich von Daniken and others – problematic because those writers made claims about the literal truth of their stories of alien archaeology, while the Star Wars Rebels stories are not set on Earth and are clearly presented as fiction.
Storylines about the Jedi and Force power also demonstrate nostalgia for the past and a rejection of utilitarian imperial values. Ezra (and to a lesser extent Kanan, e.g. S04E10 for ritual hair-cutting) goes through many rites of passage of the sort familiar from ancient history and myth as he learns to improve himself. When the pair locate a hidden Jedi temple, Kanan tells Ezra some history: how there were once 10,000 Jedi Knights and a wealth of temples, now mostly destroyed by the empire. The visit to the temple is the first time in the series that Ezra (and the viewer) has entered a high-ceilinged column-supported environment complete with sculpture and inscriptions. This classical-style architecture provides Ezra with tangible evidence of a more civilised age. It is here that Ezra completes an important Jedi right-of-passage ritual (S01E09). Other episodes include quests to recover sources of ancient knowledge (eg. S02E17; S02E20; S03E02). It emerges that there is competition for ancient artefacts and knowledge between the Jedi and the evil Sith forces controlling the empire (S02E17). As the series approaches its climax (S04E11) the Empire embarks on a massive archaeological excavation of a Jedi temple in an attempt to control the interdimensional gateway that it is thought to contain. This story arc is heavily reminiscent of historical fascist archaeology, a theme which creator George Lucas explored earlier in his Indiana Jones films. The lead archaeologist reveals a larger-than-life frieze featuring the trio of Mortis Gods (see Star Wars. The Clone Wars entry). It is rendered in a style that is part classical, part art-deco. The female deity is pictured with her characteristic owl in the manner of a classical goddess. Sabine interprets the iconography and in doing so opens the portal; Ezra unlocks it further which causes the frieze to animate its images. Ezra disappears through the opened portal (S04E12). Ezra steps beyond normal space/time; he hears from Jedi past and future. He brings Ahsoka through into this strange realm and the bird of the frieze flies to her – we learn that its name is "Morai" (like the ancient Greek Fates). The emperor attacks them through a labyrinth of space/time tunnels. They exit and use the frieze to close the labyrinthine passages. The temple explodes in light (S04E13). This is a sort of fantasy of what a frieze or other ancient artefact could do if only properly interpreted.
In the last exchange between Ezra and Admiral Thrawn, Thrawn insists that the Jedi have failed, Ezra that they have, ultimately, survived. At this point the emperor is still attempting to dismantle the Jedi temple and is having it moved for further analysis. Ezra resists using his power over the artefacts to change his past, and in doing so he demonstrates that the selflessness of the Jedi survives. Meanwhile Rebel Alliance prisoners are saved by animals that Ezra befriended, again proving that Jedi values endure and can combat authoritarianism (S04E15). The series ends on a cliff-hanger regarding Ezra's fate, but it is made clear that ancient values are protecting the vulnerable cultures within the empire and bringing hope at a difficult time.
Further Reading
Arp, Robert, "'If Droids Could Think…': Droids as Slaves and Persons", in Kevin S. Decker and Jason T. Eberl, eds., Star Wars and Philosophy. More Powerful That You Can Possibly Imagine, Chicago: Open Court, 2005, 120–131.
Charles, Michael B., "Remembering and Restoring the Republic: Star Wars and Rome", Classical World 108.2 (2015): 281–298.
Decker, Kevin S., "By Any Means Necessary: Tyranny, Democracy, Republic, and Empire", in Kevin S. Decker and Jason T. Eberl, eds., Star Wars and Philosophy. More Powerful That You Can Possibly Imagine, Chicago: Open Court, 2005, 168–180.
Donnelly, Jerome, "Humanizing Technology: Flesh and Machine in Aristotle and 'The Empire Strikes Back'", in Kevin S. Decker and Jason T. Eberl, eds., Star Wars and Philosophy. More Powerful That You Can Possibly Imagine, Chicago: Open Court, 2005, 181–191.
Eberl, Jason T., "'You Cannot Escape Your Destiny' (Or Can You?): Freedom and Predestination in the Skywalker Family", in Kevin S. Decker and Jason T. Eberl, eds., Star Wars and Philosophy. More Powerful That You Can Possibly Imagine, Chicago: Open Court, 2005, 3–15.
Gordon, Andrew, "'The Empire Strikes Back': Monsters from the Id", Science Fiction Studies 7.3 (1980): 313–318.
Hall, Edith, May the Force of Greek Storytelling be With You!, (4/5/2013), available at edithorial.blogspot.co.uk (accessed: October 24, 2018).
Malamud, M., "Patriarchy and Pietas in the Star Wars Trilogy", Amphora 3.1 (2004).
Nevin, Sonya, Hoplites in Space: The Style of Star Wars, (21/1/2014), available at panoplyclassicsandanimation.blogspot.comlogspot.co.uk (accessed: October 24, 2018).
Reagin, Nancy R. and Janice Liedl, eds., Star Wars and History, Hoboken, New Jersey: Lucas Film and Wiley, 2012.
Rubino, Carl, A., "Long Ago, But Not So Far Away: Another Look at Star Wars and the Ancient World", The Classical Outlook 89 (2011).
Stephens, William O., "Stoicism and the Stars," in Kevin S. Decker and Jason T. Eberl, eds., Star Wars and Philosophy. More Powerful That You Can Possibly Imagine, Chicago: Open Court, 2005, 16–28.
Wetmore, Kevin J. Jr., "'Your Father's Lightsaber': The Fetishization of Objects Between the Trilogies", in Carl Silvio and Tony M. Vinci, eds, Culture, Identities, and Technology in the Star Wars Films: Essays on the Two Trilogies, Jefferson: McFarland, 2007.
Winkler, Martin M., "Star Wars and the Roman Empire", in Martin M. Winkler, ed., Classical Myth and Culture in the Cinema, Oxford: Oxford University Press, 2001, 272–290.
Addenda
starwars.wikia.com (accessed: October 24, 2015):
Series 1. 2014–2015,
Series 2. 2015–2016,
Series 3. 2016–2017,
Series 4. 2017–2018.